Contents
App selection and installation request
An app customer (a shopping mall operator) can browse and select apps in the App Store to see detailed descriptions and install the apps.
[Cafe 24 App Store - App Details Page Example]
Accept the right to install a shopping mall app
When the customer clicks the install button to purchase the app, the permission agreement screen to install the app is popped up in the shopping mall and the shopping mall operator is given permission to install and operate the app, whereas the app is only installed upon agreement.
At this time, the app is available for a free trial period (installation date + free period of use).
The free trial period is set as configured in the app administration of the developer center.
[Example of agreement to install Cafe24 App]
App installation confirmation and execution
Once the app is installed, you can see it in the My App List and run the services provided by the app
(during the free trial period).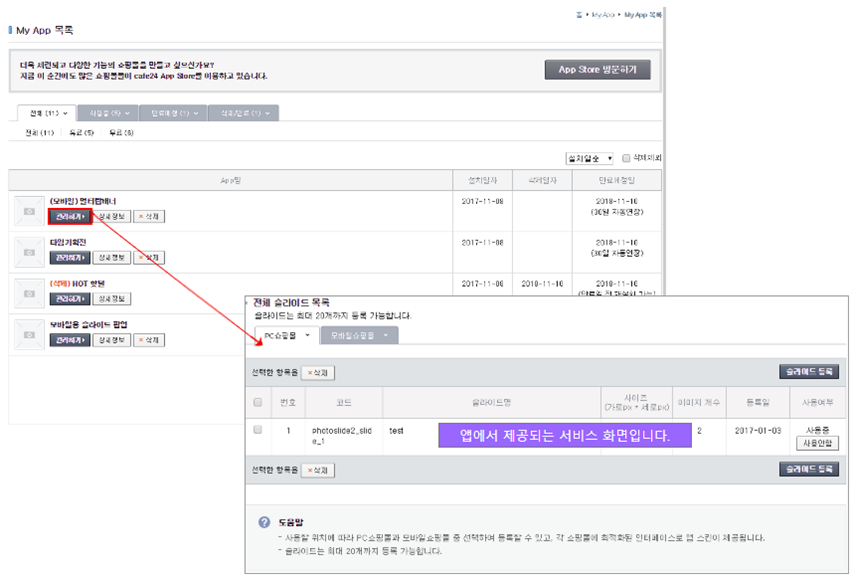 [Cafe24 App installation and execution screen]
App payment (billing) process
When the free trial period expires or when any payment is required, the shopping mall operator is automatically provided with a payment screen with the app product options offered by the developer.
The app product options can be entered in the developer center, as an introduction / selection screen is shown with less than 6 options and a table format with more than 6 options (it is recommended that you do not exceed a total of 6 options available).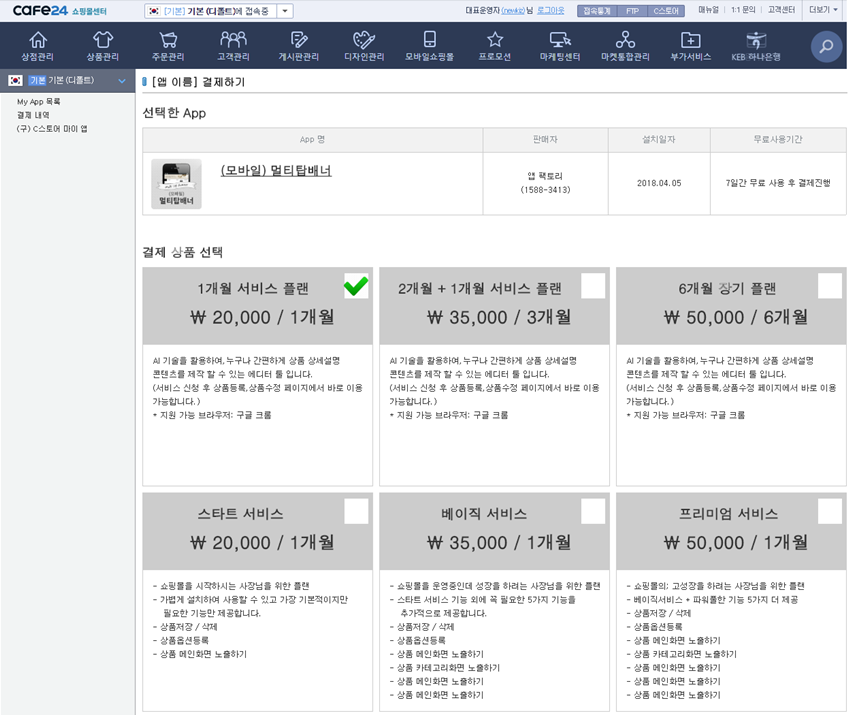 [Cafe24 App installation screen and execution screen]
App billing (include periodic payment)
An app billing is complete after the customer (shopping mall operator) confirms the payment information, chooses a product and makes the payment.
Information about the payment history can be confirmed and used by the developer through the payment confirmation API when necessary.
Once a buyer applies for a periodic billing cycle, the expiration date is automatically extended when the periodic payment is made on the billing expiration date.


Processing related to payment and expiration is handled automatically through the cafe24 App Store.